All SAPP-registered psychotherapists have undergone a professional training in psychoanalytic psychotherapy and are registered with the British Psychoanalytic Council, a professional association for the profession and practice of psychoanalytic and psychodynamic psychotherapy.  Our members work in a range of professional settings including the NHS and Private Practice.
If you would like to access psychotherapy through the NHS, then you should contact your GP and ascertain whether psychoanalytic psychotherapy is available in your area.
If you would like to be seen in private practice, search below. Some members have websites accessible by clicking on their names. You can make contact to request a consultation for psychoanalytic psychotherapy. Your psychotherapist will be able to help you think about your situation and advise whether to proceed with psychoanalytic psychotherapy or choose a better option for you at this stage. Please note that fees vary for psychoanalytic psychotherapy and you should discuss this with your individual therapist.
ABERDEEN
Ms Stephanie Kubrycht
Psychoanalytic Psychotherapist
9 Caledonian Place, Aberdeen AB11 6TT
T: 0794 046 9201
E: stefkubrycht@btinternet.com
www.stephaniekubrycht.com
AYR
Mrs Caroline McGaffin
Child and Adult Psychoanalytic Psychotherapist
'The Studio', 86 Midton Road, Ayr KA7 2TP
T: 0770 999 9285
E: caroline.mcgaffin@gmail.com
CARLISLE
Ms Jane Cook
Psychoanalytic Psychotherapist
13, Earl Street, Carlisle, CA1 1DP
E: jane.cook@outlook.com
EDINBURGH
Ms Sharadha Bain
Psychoanalytic Psychotherapist
6A Strathearn Road, Edinburgh EH9 2AH
T: 07427 327 876
E: sharadhabain@yahoo.com
www.sharadhabain.com
Dr Susan Bainbrigge
Psychoanalytic Psychotherapist
13/2 Roseneath Terrace, Edinburgh EH9 1JS
T: 07989 389 959
E: susiebainbrigge@aol.co.uk
Ms Joanne Brooks
Psychoanalytic Psychotherapist
24 Forth Street, Edinburgh EH1 3LH
T: 0774 8722 853
E: jbrooks7@me.com
Dr Nicola Chadd
Psychoanalytic Psychotherapist
T: 0795 548 876
E: n.chadd@me.com
Dr Marina McLoughlin MBChB, FRCPsych
Psychoanalytic Psychotherapist
www.mclpsychotherapy.co.uk
E: contact@mclpsychotherapy.co.uk
Ms Audrey Neill
Psychoanalytic Psychotherapist
T: 07775 778625
E: neill.audrey@gmail.com
Ms Kedzie Penfield
Psychoanalytic Psychotherapist
1c Dublin Street Lane South, Edinburgh EH1 3PX
T: 07733 417 990
E: kedzie2@gmail.com
www.analytictherapy.co.uk
Dr Angela Pirrie
Psychoanalytic Psychotherapist
14 Danube Street, Edinburgh EH4 1NT
T: 0771 200 4747
E: angelampirrie@gmail.com
Ms Laila Rashid
Psychoanalytic Psychotherapist
Clinical Psychologist, CPsychol AFPPsS, RAPPS Supervisor
26 Forth Street, Edinburgh EH1 3LH
T: 0782 578 8079
E: laila-rashid@hotmail.com
www.lailarashid.com
Dr Aileen Ogilvie Riley
Psychoanalytic Psychotherapist
Braid Farm Road, Edinburgh EH10 6LE
T: 0771 881 5758
E: ailogy@hotmail.co.uk
Mr Jonathan C.Sperber
Psychoanalyst and Psychoanalytic Psychotherapist
Fellow of the Institute of Psychoanalysis
20 East Clapperfield, Edinburgh EH16 6TU
T: 0131 664 8200
E: jcsperber@icloud.com
GLASGOW
Constanza Aranguren
Psychoanalyst – Psychoanalytic Psychotherapist
Newlands Tennis Club 
18, Mochrum Road, Glasgow G43 2QE 
E: conaranguren@gmail.com
Mr Mark Crawford
Psychoanalytic Psychotherapist
The Consulting Rooms, The Connal Building,
34 West George Street, Glasgow G2 1DA
E: mjcrawford63@gmail.com
Dr Gail Taylor
Psychoanalytic Psychotherapist
45 Dowanhill Street, Glasgow G11 5HB
T: 0790 568 8759
E: gail.taylor@sndden.org
MANCHESTER
Dr M.H.Louise Ivinson
Psychoanalytic Psychotherapist
39 Parkfield Road South, Didsbury, Manchester M20 6DH
T: 0161 434 2397
E: louiseivinson@gmail.com
NEWCASTLE
Ms Nicky Garner
Psychoanalytic Psychotherapist
4 Lambley Way, Great Park, Newcastle upon Tyne, NE13 9BZ
T: 0779 653 5559
E: nicolamgarner@gmail.com
Dr Esti Rimmer
Psychoanalytic Psychotherapist, Psy.Doc CPsychol, Clinical Psychologist
T: 07947 278 338
E: st_rimmer@yahoo.co.uk
ST ANDREWS
Natalia Kigai
Psychoanalytic Psychotherapist and Psychoanalyst
T: 07376 734 114
E: natalia.kigai@gmail.com
The British Psychoanalytic Council has an online register of all its members which can be accessed through the following link:
---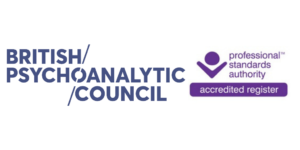 ---
Contact us for further information about psychoanalytic psychotherapy: admin@sapp.org.uk
---